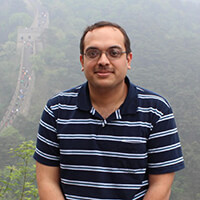 Rohit Kelapure
Advisory Architect
Pivotal
Rohit Kelapure is an expert on Cloud Foundry and distributed systems. Rohit was the lead developer and architect at IBM developing the WebSphere Liberty Profile application server. In his current role as a Pivotal Solutions consultant Rohit onboards Fortune 100 companies to next generation cloud platforms. He has broad understanding of the usage of software and architecture across major enterprises and unique experience with F500 companies and Pivotal.
Rohit is a thought leader in the micro services space, having authored one of the first reference architectures of the Spring Framework for microservices on Cloud Foundry. Rohit has self-published a book on Pragmatic Microservices. Rohit has publicly blogged and written about Cloud Foundry and presented at numerous conferences. Rohit is a software developer at heart, who in a previous life moved through the ranks at IBM, working on all aspects of software development ranging from customer support, function, integration test and development. Rohit has spent time talking publicly about the technologies he worked and led. Rohit has presented at major conferences like JavaOne, SpringOne, IBM Impact and other Java and WebSphere user groups.
Rohit has experience analyzing and redesigning release management and production operations processes. In his spare time Rohit can be found binge watching his favorite TV shows - The Wire, House Of Cards, Walking Dead, Luther and updating his blog cloud.rohitkelapure.com.
Sessions
August 3, 2016
4:20 PM - 4:50 PM
30 minutes