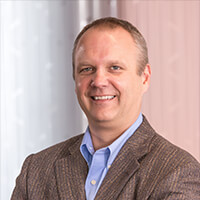 Andy Zitney
SVP Infrastructure Services
McKesson
As the Senior Vice President of infrastructure services Andrew is responsible for all aspects of infrastructure delivery and operations focused on modernizing the technology environments, while driving platform and cloud strategies across the enterprise.
Currently, Andrew is also an active board member with PinnacleCart and PikFly.com and an advisor to several other startups in the Phoenix community, helping transform them from small niche players to medium to large service/product providers.
Prior to joining McKesson, Andrew worked as Senior Vice President & Chief Technology Officer for Architecture, Infrastructure, and Technology Innovation with Allstate Technology & Strategic Ventures. In this role, he was responsible for leading the development and execution of the corporation's technology architecture, strategy, delivery and operations. He was also responsible for driving technology innovation and changing the way Allstate delivers products and services thorough emerging extreme and agile development methods. He Joined Allstate in April 2014 After 3 plus years as PayPal's Vice President of Platform Engineering and Operations, responsible for all aspects of critical infrastructure engineering, implementation, and operations. Prior to PayPal he spent nine years at JP Morgan Chase, Where he was Chief Technology Officer (CTO) of Corporate and Commercial Banking systems. In this position, he was responsible for all technology architecture, development, and support services globally. Prior to his career at JP Morgan Chase, Andrew was Vice President of critical systems for SubmitOrder.com, a startup e-fulfillment company. Andrew has a history of large scale enterprise leadership, while also playing a significant role in university, venture and startup communities in the Columbus and Phoenix areas.
Andrew has a vast background in International IT Operations. In his time at JP Morgan Chase, he played an instrumental role in establishing an Asia-Pacific presence and was a leader in developing and executing a plan to extend teams into Latin America. He worked with local governments to establish a technology deployment and operational center in Chile with team presence across Latin America. He is also passionate about small business startups, previously acting as a founder or angel investor.
Andrew graduated from Capital University with a Bachelor of Arts degree in Business Finance and is a proud veteran of the U.S. Army 101st Airborne unit.
Sessions